Volunteer
---
Volunteer at CSD Riverside!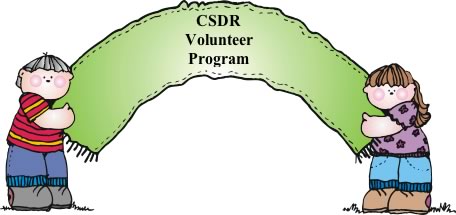 'Vol-un-teer', n. [Fr. voluntaire]
A person who enters or offers to enter into any service of his own free will without compensation.
A person who freely gives of his talents to enrich the lives of others.
A person whose love of mankind stretches beyond the need for compensation.
CSDR has a number of volunteers placed in classrooms and offices throughout the campus. We LOVE our volunteers and make every effort to place volunteers in the areas requested.
Application Process for Volunteers
Have a T.B. test administered at your own cost by a physician and bring the results to the Administration Building.
Schedule your fingerprint appointment with the personnel office. CSDR will pay for your fingerprint processing. Please notify the Personnel Office in advance if you cannot keep your scheduled appointment for fingerprinting. You will be contacted with the results as soon as possible. Please do not call the school to inquire about your fingerprinting results.
Bring the completed application packet and TB test results to the Administration Building.
When your application process is completed, the Outreach staff will post your availability for departments needing volunteers. Information will be made available to them such as signing ability and other skills you might possess. As soon as a match is made, or you are requested, you will receive a phone call explaining the pertinent aspects of your possible placement. You have the right to turn down any placement.
If this happens, your application will be put back into the system for future placement. CSDR reserves the right to determine the most appropriate placement for volunteers. Therefore, some requested positions may not be available.